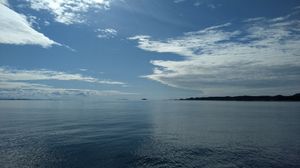 -------------------------------
On the run./  Halvdan Presthus 2020 
1.) I left my country, in the morning sun. 
 I heard the black-birds crying, over the mountain town. 
Now I hear the joyful music. On the radio no more blues. 
Before the shining break of day. Before the Morning news. 
 
2. I remember the lovely garden. Faraway from this door. 
Where my children were playing. Who could ask for more? 
 Before the King and his soldiers, forced free people down. 
The enemies of the nation. Had to flee the town. 
Refr: 
 Where is my Home? I wanna sing out free! 
Where is my Home? Like it used to be. 
I will cross any border. Tomorrow will come 
With sorrow and sun. 
3. Vers: 
Outside my window. There's a road where I belong. 
I share the dream of a place called home, with all the people on the run.
I'm leaven here tomorrow. The light of hope remains. 
I want to change my memories, and leave the heavy rain. 
Refr: Where is my home? 
Coda: 
Tomorrow I will find my home, I wish that I was there. 
Tomorrow is my song of hope, as long as you are near. 
As long as the stars will shine, as long as the hearts will care.